Imre Kertész
Hungarian author
Died when: 86 years 143 days (1036 months)
Star Sign: Scorpio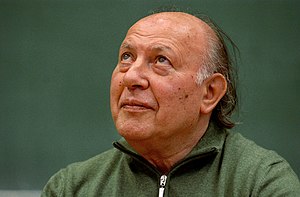 Imre Kertész (Hungarian: [ˈimrɛ ˈkɛrteːs]; 9 November 1929 – 31 March 2016) was a Hungarian author and recipient of the 2002 Nobel Prize in Literature, "for writing that upholds the fragile experience of the individual against the barbaric arbitrariness of history".

He was the first Hungarian to win the Nobel in Literature.His works deal with themes of Nazi Holocaust (he was a survivor of a German concentration camp), dictatorship and personal freedom.

He died on 31 March 2016, aged 86, at his home in Budapest after suffering from Parkinson's disease for several years.


---