Adrienne de La Fayette
French noblewoman
Died when: 48 years 52 days (577 months)
Star Sign: Scorpio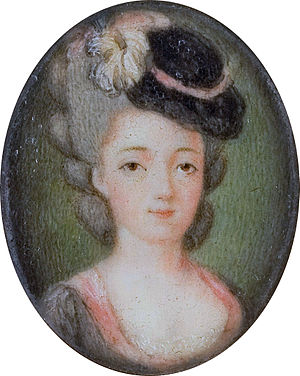 Marie Adrienne Françoise de Noailles, Marquise de La Fayette (2 November 1759 – 24 December 1807), was a French marchioness.She was the daughter of Jean de Noailles and Henriette Anne Louise d'Aguesseau, and married Gilbert du Motier, Marquis de Lafayette.

They had four children: Henriette (15 December 1775 – 3 October 1777), Anastasie Louise Pauline du Motier (1 July 1777 – 24 February 1863), Georges Washington Louis Gilbert du Motier, (24 December 1779 – 29 November 1849), and Marie Antoinette Virginie du Motier (17 September 1782 – 23 July 1849) She was a great-granddaughter of Françoise Charlotte d'Aubigné, niece of Madame de Maintenon.

In 1795, the Marquise Lafayette was imprisoned and about to be executed.Intervention by Elizabeth Monroe saved her.Mrs.Monroe visited the imprisoned marquise on the day before the execution and loudly announced she would come the next day.

Not wanting to cut ties with the (then) diplomat (James Monroe), France did not execute her.


---