Princess Stéphanie of Belgium
Archduchess of Austria
Died when: 81 years 94 days (975 months)
Star Sign: Gemini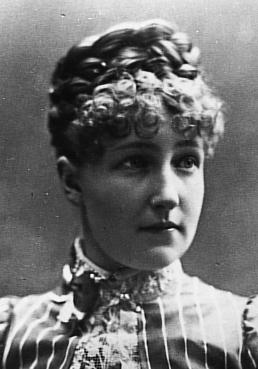 Princess Stéphanie of Belgium (French: Stéphanie Clotilde Louise Herminie Marie Charlotte; 21 May 1864 – 23 August 1945), was by birth a Princess of Belgium and member of the House of Wettin in the branch of Saxe-Coburg and Gotha (as such she was also styled Princess of Saxe-Coburg and Gotha and Duchess in Saxony).

In 1881, she became Crown Princess of Austria, Hungary and Bohemia by virtue of her marriage with Crown Prince Rudolf, only son of Emperor Franz Joseph I of Austria.

Second daughter of King Leopold II of Belgium and Queen Marie Henriette (born Archduchess of Austria), she married in Vienna on 10 May 1881 with Archduke Rudolf of Austria, heir to the Austro-Hungarian Empire.

The union only produced a daughter in 1883: Elisabeth Marie.Stéphanie's marriage, contracted on political bases, but not preventing the mutual esteem of the spouses, quickly became fragile.

Rudolf, depressed and disappointed by politics, had multiple extramarital affairs and contracted a venereal disease which he transmitted to his wife, rendered her unable to have further pregnancies.

She was famously widowed in 1889 when Rudolf and his mistress, Mary Vetsera, were found dead in an apparent murder-suicide pact at the Imperial hunting lodge at Mayerling in the Vienna Woods.

In 1900, Stéphanie remarried with Count Elemér Lónyay de Nagy-Lónya et Vásáros-Namény, a Hungarian nobleman of lower rank; for this, she was therefore excluded from the imperial and royal House of Austria-Hungary.

However, this second union, concluded because of reciprocal feelings, brought her some appeasement.After the death of her father in 1909, Stéphanie joined her older sister Louise to claim from the Belgian courts the share of the inheritance which they both felt had been stripped.

Until World War II, Count and Countess Lónyay (elevated to the Princely rank in 1917) peacefully spent their lives at Rusovce Mansion in Slovakia.

In 1935, Stéphanie published her memoirs, entitled Je devais être impératrice ("I had to be Empress").In 1944, she disinherited her daughter, who had divorced to live with a socialist deputy and whom she had not seen since 1925.

The arrival of the Soviet army, in April 1945, at the end of the war, forced the couple to leave their residence to take refuge in the Pannonhalma Archabbey, in Hungary, where on 23 August 1945 Stéphanie died of a stroke aged 81.


---