Ferenc Puskás
Hungarian footballer
Died when: 79 years 229 days (955 months)
Star Sign: Aries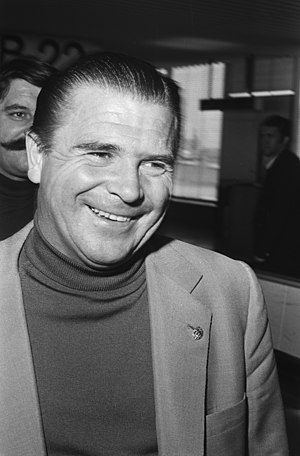 Ferenc Puskás (Hungarian pronunciation: [ˈfɛrɛnt͡s ˈpuʃkaːʃ], born Ferenc Purczeld; 1 April 1927 – 17 November 2006) was a Hungarian footballer and manager, widely regarded as one of the greatest players of all time.

A prolific forward, he scored 84 goals in 85 international matches for Hungary, and 514 goals in 529 matches in the Hungarian and Spanish leagues.

Puskás's Hungary career is often said to be 83 goals in 84 games - the extra game and goal was from a match vs Lebanon that was played in 1956, however it was only recognised as an official game by the Hungarian FA in May 2002.

He became Olympic champion in 1952 and led his nation to the final of the 1954 World Cup where he was named the tournament's best player.

He won three European Cups (1959, 1960, 1966), 10 national championships (5 Hungarian & 5 Spanish Primera División) and 8 top individual scoring honors.Puskás started his career in Hungary playing for Kispest and Budapest Honvéd.

He was top scorer in the Hungarian League on four occasions, and in 1948, he was the top goal scorer in Europe.

During the 1950s, he was both a prominent member and captain of the Hungarian national team, known as the Mighty Magyars.

In 1958, two years after the Hungarian Revolution, he emigrated to Spain where he played for Real Madrid.While playing with Real Madrid, Puskás won four Pichichis and scored seven goals in two European Champions Cup finals.

In 1995, he was recognized as the top scorer of the 20th century by the IFFHS.After retiring as a player, he became a coach.

The highlight of his coaching career came in 1971 when he guided Panathinaikos to the European Cup final, where they lost 2–0 to AFC Ajax.

Despite his defection in 1956, the Hungarian government granted him a full pardon in 1993, allowing him to return and take temporary charge of the Hungarian national team.

In 1998, he became one of the first ever FIFA/SOS Charity ambassadors.In 2002, the Népstadion in Budapest was renamed the Puskás Ferenc Stadion in his honor.

He was also declared the best Hungarian player of the last 50 years by the Hungarian Football Federation in the UEFA Jubilee Awards in November 2003.

In October 2009, FIFA announced the introduction of the FIFA Puskás Award, awarded to the player who has scored the "most beautiful goal" over the past year.

He was also listed in Pelé's FIFA 100.


---