Stuart Christie
Scottish anarchist writer and publisher
Died when: 74 years 36 days (889 months)
Star Sign: Cancer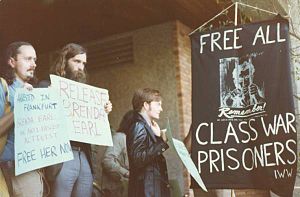 Stuart Christie (10 July 1946 – 15 August 2020) was a Scottish anarchist writer and publisher.When aged 18, Christie was arrested while carrying explosives to assassinate the Spanish caudillo, General Francisco Franco.

He was later alleged to be a member of the Angry Brigade, but was acquitted of related charges.He went on to found the Cienfuegos Press publishing house, as well as radical publications The Free-Winged Eagle and The Hastings Trawler, and in 2006 the online Anarchist Film Channel, which hosts films and documentaries with anarchist and libertarian socialist themes.

His memoir Granny Made Me an Anarchist was published in 2004.


---