Érard de La Marck
Roman Catholic bishop
Died when: 65 years 291 days (789 months)
Star Sign: Gemini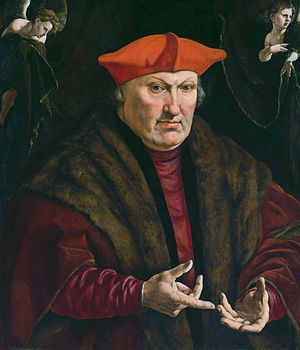 Érard de la Marck (31 May 1472, in Sedan, Ardennes - 18 March 1538) was prince-bishop of Liège from 1506 till 1538.He was the third son of Robert I de la Marck, lord of Sedan and Bouillon.He was also lord of Jametz, bishop of Chartres (1507-1525) and archbishop of Valencia (1520-1538).

He was nominated Cardinal in 1520.He first tried to obtain protection from the King of France and finally allied with the emperor.

He succeeded in securing peace in the prince-bishopric during his whole reign.His reign is considered as the most flourishing of the Bishopric of Liège.

He reconstructed the prince-bishop's palace, ruined by the wars of the last century with Burgundy.He also restored many monuments, including Saint Martin collegiate church.


---