A. Seshayya Sastri
Diwan of Travancore
Died when: 75 years 221 days (907 months)
Star Sign: Aries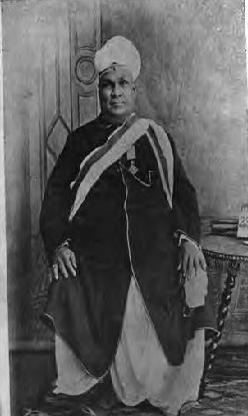 Sir Amaravati Seshayya Sastri KCSI (22 March 1828 – 29 October 1903), or Sashiah Sastri, was an Indian administrator who served as the Diwan of Travancore from May 1872 to 4 May 1877 and as the Diwan of Pudukkottai from 1878 to 1894.

He is credited with having modernized the city of Pudukkottai.Seshayya Sastri was born in the village of Amaravati in Tanjore district, Madras Presidency in 1828 in a poor Hindu family.

At the age of nine, Seshayya Sastri moved to Madras city with his uncle Gopala Aiyer.Seshayya Sastri had his schooling and higher education in Madras and graduated in 1848 in first class.

In 1848, Seshayya Sastri was employed as a clerk in the Revenue Office and rose to become Tahsildar, Naib Sheristadar and later, Head Sheristadar.

In 1872, Seshayya Sastri was appointed Diwan of Travancore and served from 1872 to 1877, when palace intrigues forced him to quit.Seshayya Sastri served as Diwan of Pudukkottai from 1878 to 1886 and Diwan-Regent from 1886 to 1894.

He rebuilt the town of Pudukkottai and created the Pudukulam Lake.Seshayya Sastri retired from service in 1894.He died on 29 October 1903 at the age of 75.

Seshayya Sastri was made a Knight Commander of the Order of the Star of India in 1902.


---