Abderrahim Goumri
Moroccan marathon runner
Died when: 36 years 243 days (439 months)
Star Sign: Gemini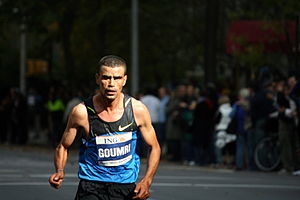 Abderrahim Goumri (Arabic: عبد الرحيم الغومري; 21 May 1976 – 19 January 2013 in Temara, Morocco) was a Moroccan long-distance runner.

He had competed in cross country, track, road running and marathon races.He spent the early part of his career in Norway and established himself with performances at the IAAF World Cross Country Championships, where he helped his nation to team bronze medals at the 2002 and 2003 editions.

He reached the 5000 metres track finals at the 2003 World Championships and the 2004 Summer Olympics.In 2005 he ran a career best of 12:50.25 minutes for the distance to take eleventh place on the all-time lists.

From 2007 onwards he focused on marathon running and was runner-up at both the London and New York races that year.

He set a Moroccan record of 2:05:30 hours for third at the 2008 London Marathon, becoming the sixth fastest marathoner at that point.

He was the runner-up at the 2008 New York Marathon and the 2009 Chicago Marathon.In spite of good performances at major races on the circuit, he has not performed well in the event at championships—finishing twentieth at the 2008 Beijing Olympics and failing to finish at the World Championships in 2007, 2009 and 2011.

On 7 June 2012, the International Association of Athletics Federations (IAAF) announced that Goumri was provisionally suspended on the basis of abnormal blood values in his "biological passport." The French newspaper L'Équipe reported that the IAAF was recommending a suspension of two to four years for the doping offense.

He received a four-year suspension.Goumri died on 19 January 2013 in a car crash in Temara, Morocco while en route to Rabat.


---