Abdias do Nascimento
Brazilian politician
Died when: 97 years 71 days (1166 months)
Star Sign: Pisces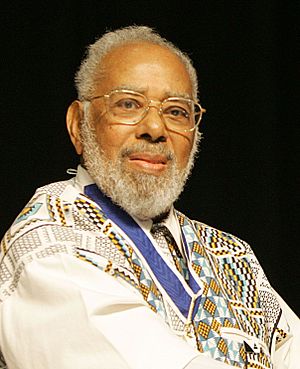 Abdias do Nascimento (March 14, 1914 – May 23, 2011) was a prominent African Brazilian scholar, artist, and politician.Also a poet, dramatist, and Pan-African activist, Nascimento created the Black Experimental Theater (1944) and the Black Arts Museum (1950), organized the National Convention of Brazilian Blacks (1946), the First Congress of Brazilian Blacks (1950), and the Third Congress of Black Culture in the Americas (1982).

Professor Emeritus, State University of New York at Buffalo, he was the first Afro-Brazilian member of Congress to champion black people's human and civil rights in the National Legislature, where in 1983 he presented the first Brazilian proposals for affirmative action legislation.

He served as Rio de Janeiro State Secretary for the Defense and Promotion of Afro-Brazilian People and Secretary of Human Rights and Citizenship.

While working as curator of the Black Arts Museum project, he began developing his own creative work (painting), and from 1968 on, he exhibited widely in the U.S., Brazil and abroad.

He received national and international honors for his work, including UNESCO's special Toussaint Louverture Award for contribution to the fight against racism, granted to him and to poet Aimé Césaire in 2004.

He was officially nominated for the 2010 Nobel Peace Prize.


---