Abdul Amir al-Jamri
Bahraini opposition and religious leader
Died when: 68 years 292 days (825 months)
Star Sign: Pisces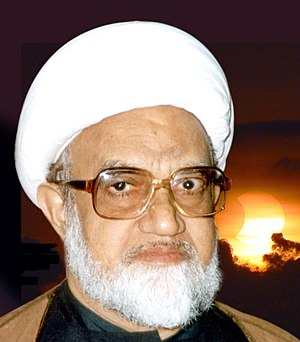 Sheikh Abdul Amir al-Jamri (/ˈɑːbdəl əˈmɪər æl ˈdʒɑːmri/ AHB-dəl ə-MEER al JAHM-ree;

Arabic: شيخ عبدالأمير الجمري; 1 March 1938 – 18 December 2006) was one of the most prominent Shia clerics and opposition leaders in Bahrain.

He was also a writer and a poet.Born in the village of Bani Jamra, al-Jamri became a Hussaini khatib (Shia preacher) after finishing primary school.

At the age of 21, he began his Islamic studies, first in Bahrain and later in the religious institute of Al Najaf, Iraq, where he remained for 11 years.

He returned to Bahrain in 1973 and was elected to the newly formed parliament.The parliament was dissolved two years later by the Emir, Isa bin Salman al-Khalifa, after it had rejected the State Security Law.

In 1977, al-Jamri was appointed as a judge at the High Religious Court of Bahrain.He held the position until 1988, when he was briefly arrested due to his criticism of the government.

Al-Jamri is most notable for his role during the 1990s uprising in Bahrain.As the lead figure of the opposition, he succeeded in bringing Islamists, liberals and leftists together against the monarchy.

The events began in the form of petitions in 1992 and 1994 calling for restoration of the parliament and reinstatement of the suspended constitution, but led to widespread violence and the death of 40 individuals.

Due to his civil rights activity, al-Jamri was imprisoned between April and September 1995, before being arrested again in January 1996 and imprisoned until July 1999, which was followed by a year and a half of house arrest.

In January 2001, al-Jamri was released along with other opposition activists.The new emir, Hamad bin Isa Al Khalifa, proposed a reform plan, the National Action Charter of Bahrain, which was accepted by the opposition and later gained widespread popular support.

A year later, Hamad issued a new constitution which al-Jamri said fell short of the opposition's demands.Disappointed, al-Jamri soon fell ill, suffering from a series of strokes and eventually dying of multiple organ failure.


---