Abraham Lincoln II
Grandson of President Lincoln
Died when: 16 years 203 days (198 months)
Star Sign: Leo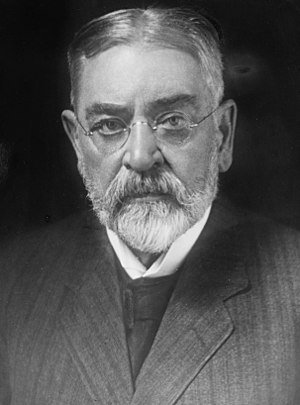 Robert Todd Lincoln (August 1, 1843 – July 26, 1926) was an American lawyer, businessman, and politician.He was the eldest son of President Abraham Lincoln and Mary Todd Lincoln, and the only one of their four sons to live to adulthood.

Robert Lincoln became a business lawyer and company president, and served as U.S.Secretary of War and U.S.

Ambassador to the United Kingdom.Lincoln was born in Springfield, Illinois, and graduated from Harvard College before serving on the staff of Ulysses S.

Grant as a captain in the Union Army in the closing days of the American Civil War.After the war, he married Mary Eunice Harlan, and they had three children together.

Following completion of law school in Chicago, he built a successful law practice, and became wealthy representing corporate clients.Active in Republican politics, and a tangible symbol of his father's legacy, Lincoln was often spoken of as a possible candidate for office, including the presidency, but never took steps to mount a campaign.

The one office to which he was elected was town supervisor of South Chicago, which he held from 1876 to 1877; the town later became part of the city of Chicago.

Lincoln served as United States Secretary of War in the administration of James A.Garfield, continuing under Chester A.Arthur, and as United States Minister to the United Kingdom in the Benjamin Harrison administration.

Lincoln became general counsel of the Pullman Palace Car Company, and after founder George Pullman died in 1897, Lincoln assumed the company's presidency.

After retiring from this position in 1911, Lincoln served as chairman of the board until 1922.In Lincoln's later years, he resided at homes in Washington, D.C. and Manchester, Vermont; the Manchester home, Hildene, was added to the National Register of Historic Places in 1977.

In 1922, he took part in the dedication ceremonies for the Lincoln Memorial.Lincoln died at Hildene on July 26, 1926, six days before his 83rd birthday, and was buried at Arlington National Cemetery.


---