Adalbert Zuckschwerdt
Kriegsmarine admiral
Died when: 71 years 181 days (858 months)
Star Sign: Capricorn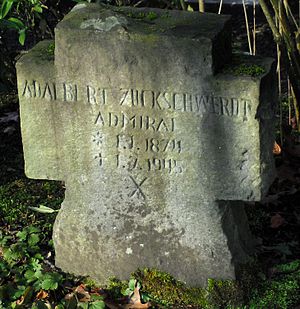 Adalbert Zuckschwerdt (1 January 1874 – 1 July 1945) was captain (Korvettenkapitän) of the German raider SMS Cormoran, which sailed from the German Colony of Tsingtao, China (now Qingdao), until she was finally docked and interned at Guam by the Americans.

Zuckschwerdt preempted the confiscation of his ship by the Americans by igniting preplanted explosives and scuttling her in Apra Harbor.

Seven of the German sailors on board died, and Zuckschwerdt spent the rest of the war as a POW.


---