Ahmed Gaid Salah
Algerian army officer
Died when: 79 years 344 days (959 months)
Star Sign: Capricorn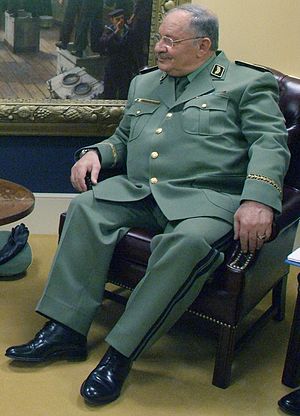 Ahmed Gaid Salah (Arabic: أحمد قايد صالح; 13 January 1940 – 23 December 2019) was a senior leader in the Algerian People's National Army.

In 2004, he was appointed by then-President Abdelaziz Bouteflika to the position of chief of staff of the army.On 15 September 2013, he was appointed Deputy Minister of Defense.

Gaid Salah was promoted to the rank of General in 1993.He was married and father of seven children.Gaid Salah served as Algeria's de facto leader in 2019.


---