Srivilailaksana
Thai princess
Died when: 36 years 94 days (435 months)
Star Sign: Leo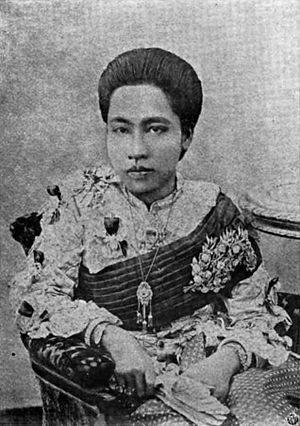 Srivilailaksana, Princess of Suphanburi (Thai: ศรีวิไลยลักษณ์;

RTGS: Siwilailak; 24 July 1868 – 26 October 1904), was the Princess of Siam (later Thailand).A member of Siamese Royal Family, she was a daughter of Chulalongkorn, King Rama V of Siam, born while her father was the heir-apparent.

Her father had great trust in her and referred to her as My greatest-trusted lovely daughter.Srivilailaksana was one of the vice-presidents of the Red Unalom Society (later Thai Red Cross Society) with the other princesses.

She received the royal title Krom at the 4th level Krom Khun Suphan Bhakavadi (translated as the Princess of Suphanburi;

Thai: กรมขุนสุพรรณภาควดี).

She died a year after receiving the royal title.The Royal Cremation was created at , in the area of Bang Pa-In Royal Palace.


---