Alan Christopher Deere
New Zealand World War II flying ace
Died when: 77 years 283 days (933 months)
Star Sign: Sagittarius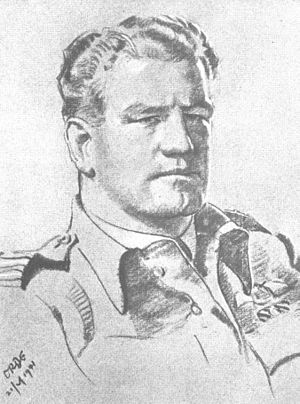 Air Commodore Alan Christopher "Al" Deere, (12 December 1917 – 21 September 1995) was a New Zealand fighter ace with the Royal Air Force (RAF) during the Second World War.

He was also known for several near-death experiences over the course of the war.This led to his published autobiography being titled Nine Lives.

Born in Westport, New Zealand, in 1917, Deere was commissioned in the RAF in January 1938.Posted to No. 54 Squadron, he flew Supermarine Spitfires during the Battle of France and became a fighter ace by the end of May 1940.

For his exploits he was awarded the Distinguished Flying Cross (DFC) the following month.He participated in the subsequent Battle of Britain, during which he shot down several more enemy aircraft, and had his Spitfire destroyed from under him more than once.

His continued accomplishments earned him a bar to his DFC in September 1940.He was soon promoted to squadron leader, and commanded No. 403 Squadron RCAF for several months in 1942.

He led a fighter wing from Biggin Hill for six months in 1943, and was awarded the Distinguished Service Order for his achievements.

By the end of the war, he was credited with the destruction of 22 enemy aircraft, ranking him the second-highest scoring New Zealand fighter ace.

Later research has seen this total revised to 17 victories.Deere remained in the RAF after the war, commanding several stations and training establishments.

He also wrote his autobiography, which was published in 1959.He left military service in 1967, having risen to the rank of air commodore, and continued to live in the United Kingdom.

In civilian life, he worked with the RAF as its sporting director until his retirement in 1977.As a well-known fighter ace of the Second World War, he was sought after by media and historians for commentary and interviews on air warfare.

He died of cancer in 1995.


---