Richie Benaud
Australian cricketer
Died when: 84 years 186 days (1014 months)
Star Sign: Libra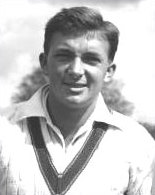 Richard Benaud OBE (/ˈbɛnoʊ/; 6 October 1930 – 10 April 2015) was an Australian cricketer who, after his retirement from international cricket in 1964, became a highly regarded commentator on the game.

Benaud was a Test cricket all-rounder, blending leg spin bowling with lower-order batting aggression.Along with fellow bowling all-rounder Alan Davidson, he helped restore Australia to the top of world cricket in the late 1950s and early 1960s after a slump in the early 1950s.

In 1958 he became Australia's Test captain until his retirement in 1964.He became the first player to reach 200 wickets and 2,000 runs in Test cricket, arriving at that milestone in 1963.

Gideon Haigh described him as "perhaps the most influential cricketer and cricket personality since the Second World War." In his review of Benaud's autobiography Anything But, Sri Lankan cricket writer Harold de Andrado wrote: "Richie Benaud possibly next to Sir Don Bradman has been one of the greatest cricketing personalities as player, researcher, writer, critic, author, organiser, adviser and student of the game."


---