Otto Fretter-Pico
German General and Knight's Cross recipient
Died when: 73 years 178 days (881 months)
Star Sign: Aquarius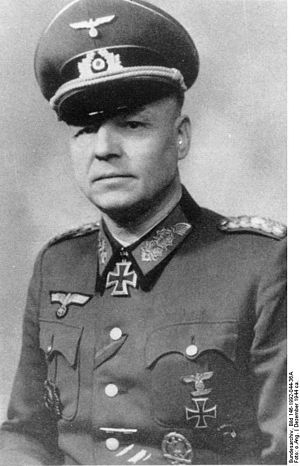 Otto Fretter-Pico (2 February 1893 – 30 July 1966) was a German general in the Wehrmacht during World War II.A veteran of WWI and the younger brother of General Maximilian Fretter-Pico, he took part in operations from Poland to France, and from the Soviet Union to Italy.

Fretter-Pico commanded artillery units before commanding the 57th Infantry Division and the 148th Infantry Division.He was a recipient of the Knight's Cross of the Iron Cross of Nazi Germany.

Ahead of his 148th Infantry Division, he was blocked and surrounded by Brazilian forces in Collecchio when trying to retreat to Germany.

He surrendered to the Brazilian division on 29 April 1945.


---