Alexander Roberts Dunn
Recipient of the Victoria Cross
Died when: 34 years 132 days (412 months)
Star Sign: Virgo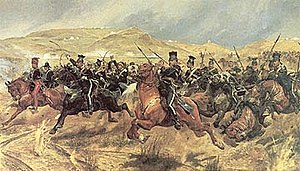 Alexander Roberts Dunn VC (15 September 1833 – 25 January 1868) was the first Canadian awarded the Victoria Cross, the highest and most prestigious award for bravery in the face of the enemy that can be awarded to British and Commonwealth forces.

Later in life, he assisted in raising a regiment in Canada for the British Army.He was the first Canadian to command a British Army regiment.

Dunn died of a gunshot wound under mysterious circumstances in Abyssinia (now Eritrea), where he was part of the British Expedition to Abyssinia.

His grave was re-discovered by Canadian Armed Forces troops who were part of the United Nations peacekeeping force to the Eritrea-Ethiopia war of 2000-2001.


---