James Eastland
American politician
Died when: 81 years 83 days (974 months)
Star Sign: Sagittarius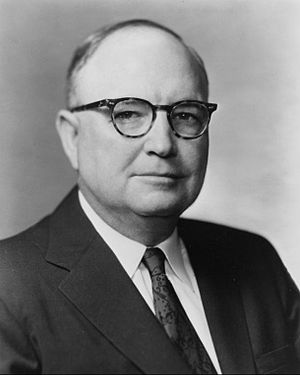 James Oliver Eastland (November 28, 1904 – February 19, 1986) was an American politician from Mississippi who served in the United States Senate in 1941 and again from 1943 until his resignation on December 27, 1978.

He has been called the "Voice of the White South" and the "Godfather of Mississippi Politics." Eastland was known as the symbol of Southern resistance to racial integration during the civil rights movement, often speaking of African Americans as "an inferior race." The son of a prominent attorney, politician, and cotton planter, Eastland attended the local schools of Scott County, Mississippi, and took courses at the University of Mississippi, Vanderbilt University, and the University of Alabama.

He completed his legal education by studying in his father's office, attaining admission to the bar in 1927.Eastland practiced law in Sunflower County, Mississippi, and took over management of his family's cotton plantation.

Becoming active in politics as a Democrat, he served in the Mississippi House of Representatives from 1928 to 1932.When Senator Pat Harrison died in office in 1941, the governor appointed Eastland to temporarily fill the office's vacancy on the condition that Eastland not run in that year's special election to complete the term.

Eastland held the office from June to September 1941, and the special election was won by Congressman Wall Doxey.Eastland went on to defeat Doxey in the 1942 primary for the Democratic nomination for a full term.

The Democratic party, which was then Mississippi's dominant party, made Eastland's primary victory a safe seat, and he returned to the Senate in January 1943.

Eastland was reelected five times, serving until resigning in December 1978, days before the end of his final term.After being elected a U.S.

Senator, Eastland advanced to the chairmanship of the Senate Judiciary Committee, serving over 20 years, and President pro tempore of the Senate.

Eastland died in 1986 and was buried at Forest Cemetery in Forest, Mississippi.


---