Andreas Lubitz
German suicide pilot
Died when: 27 years 86 days (326 months)
Star Sign: Capricorn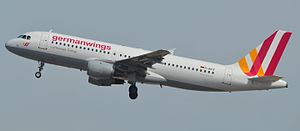 Germanwings Flight 9525 was a scheduled international passenger flight from Barcelona–El Prat Airport in Spain to Düsseldorf Airport in Germany.

The flight was operated by Germanwings, a low-cost carrier owned by the German airline Lufthansa.On 24 March 2015, the aircraft, an Airbus A320-211, crashed 100 km (62 mi; 54 nmi) north-west of Nice in the French Alps.

All 144 passengers and six crew members were killed.It was Germanwings' first fatal crash in the 18-year history of the company.

The crash was deliberately caused by the co-pilot, Andreas Lubitz, who had previously been treated for suicidal tendencies and declared "unfit to work" by his doctor.

Lubitz kept this information from his employer and instead reported for duty.Shortly after reaching cruise altitude and while the captain was out of the cockpit, he locked the cockpit door and initiated a controlled descent that continued until the aircraft impacted a mountainside.

Aviation authorities swiftly implemented new regulations that required two authorized personnel in the cockpit at all times, but by 2017, Germanwings and other German airlines had dropped the rule.

The Lubitz family held a press conference in March 2017 at which Lubitz's father said that they did not accept the official investigative findings that his son deliberately caused the crash.

As of February 2017, Lufthansa had paid €75,000 to the family of every victim, as well as €10,000 in pain and suffering compensation to every close relative of a victim.


---