Andrew Smith
American basketball player
Died when: 25 years 125 days (304 months)
Star Sign: Virgo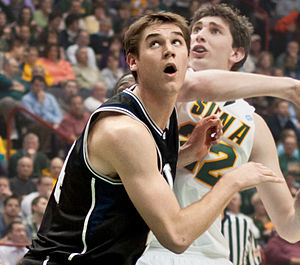 Andrew Smith (September 9, 1990 – January 12, 2016) was an American basketball player.He played in two NCAA Final Fours during his career at Butler, as well as professionally for Neptūnas.

Smith grew up in the Indianapolis, Indiana, area.He attended Covenant Christian High School where he became a star basketball player.

During his senior year, he led the state of Indiana in rebounding, was named All-City player of the year, and was selected as a All-American.

After high school, Smith accepted a scholarship offer to play basketball at Butler.At Butler, Smith was a reserve during his freshman year.

Despite playing just three minutes during the previous month, he came into Butler's Elite Eight game against Kansas State and played a significant role in helping the school to its first ever Final Four appearance.

Smith became a starter shortly after the start of his sophomore year and his emergence as a starter helped Butler return to the Final Four.

During Smith's junior year, he led the team in scoring and made more than 52% of his shot attempts.He also expanded his game to include 3-point shooting.

As a senior, Smith became a vocal leader for Butler and led the team in rebounding.Butler returned to the NCAA tournament where Smith recorded a career high and Butler tournament record 16 rebounds against Bucknell in a second-round match.

Smith was selected as an Academic All-American and Senior CLASS Award recipient.He finished his college career with more than 1000 rebounds and 100 wins, one of just three Butler players to achieve the feat.

He married his long-time girlfriend shortly after graduating from Butler with a degree in finance.Andrew Smith died from cancer at the age of 25.


---