Andrzej Szczeklik
Polish physician
Died when: 73 years 189 days (882 months)
Star Sign: Leo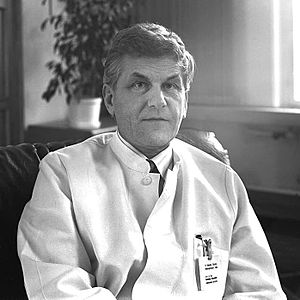 Andrzej Szczeklik (July 29, 1938 – February 3, 2012) was a Polish immunologist working at the Jagiellonian University School of Medicine (Collegium Medicum) in Kraków.

Having received numerous distinctions for his research, Szczeklik was also well known as a writer.He received his graduate degree from the Jagiellonian University, and after completing his one-year internship in the USA he worked for seven years at the Academy of Medicine in Wrocław.

He completed his postgraduate training abroad; at the Karolinska Institutet in Stockholm and University of Uppsala, Sweden as well as at the University of North Carolina, Chapel Hill, USA.

In 1979 he became chairman of Department of Medicine, Jagiellonian University School of Medicine in Kraków.In 1990-1993 he was elected the Rector (President) of the Copernicus Academy of Medicine in Cracow, and then Vice-Rector of the Jagiellonian University for Medical Affairs (1993–1996).

Szczeklik's main research interest included: cardiopulmonary diseases, aspirin-induced asthma, chemical mediators in diseases of circulatory and respiratory systems with special reference to eicosanoids.

Szczeklik has been lecturing extensively in major European, American and Japanese universities.He was a visiting professor at the Faculty of Medicine of the University of Sheffield, UK, King's College School of Medicine, London, UK and Hochgebirgsklinik Davos-Wolfgang, Switzerland.


---