Anthony Spilotro
American mobster
Died when: 48 years 26 days (576 months)
Star Sign: Taurus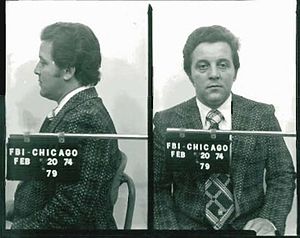 Anthony John Spilotro (May 19, 1938 – June 14, 1986), nicknamed "Tony the Ant", was an American mobster and high ranking member for the Chicago Outfit in Las Vegas during the 1970s and '80s.

Spilotro managed the Outfit's illegal casino profits (the "skim") when four of the casinos, The Stardust, The Fremont, The Hacienda, and The Marina, were managed by Frank Rosenthal, replacing Outfit member John Roselli in Las Vegas.

He was the leader of the "Hole in the Wall Gang", which he formed in Las Vegas when he moved there in 1971.

Spilotro eventually ran afoul of his organized crime overseers who disapproved of his handling of their Las Vegas affairs, and who then arranged his murder on June 14, 1986.

Spilotro served as the basis for the character Nicky Santoro in Martin Scorsese's 1995 film Casino.


---