Ben Bradlee
Washington Post Editor
Died when: 93 years 56 days (1117 months)
Star Sign: Virgo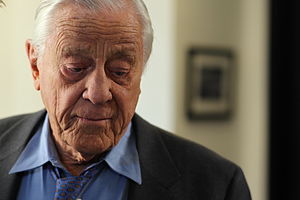 Benjamin Crowninshield Bradlee (August 26, 1921 – October 21, 2014) was one of the most prominent journalists of post-World War II United States, serving first as managing editor, then as executive editor at The Washington Post, from 1965 to 1991.

He became a public figure when he joined The New York Times in publishing the Pentagon Papers and gave the go-ahead for the paper's extensive coverage of the Watergate scandal.

He was also criticized for editorial lapses when the Post had to return a Pulitzer Prize in 1981 after it discovered its award-winning story was false.

After retirement, Bradlee continued to be associated with the Post, holding the position of "Vice President at-large" until his death.

In retirement Bradlee was an advocate for education and the study of history, including working for years as an active trustee on the boards of several major educational, historical, and archaeological research institutions.


---