Bettino Craxi
Prime Minister of Italy
Died when: 65 years 329 days (790 months)
Star Sign: Pisces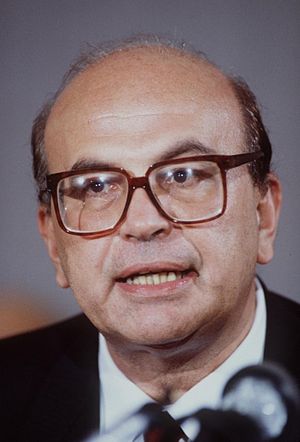 Benedetto "Bettino" Craxi (UK: KRAK-see, Italian: [betˈtiːno ˈkraksi], Sicilian: [ˈkɾaʃʃɪ]; 24 February 1934 – 19 January 2000) was an Italian politician, leader of the Italian Socialist Party from 1976 to 1993 and Prime Minister of Italy from 1983 to 1987.

He was the first Italian Socialist Party member to become Prime Minister and the third from a socialist party to hold the office.

He led the third-longest government in the Italian Republic and he is considered one of the most powerful and prominent politicians of the so-called First Republic.

Craxi was involved in investigations conducted by Mani Pulite judges in Milan, eventually being convicted for corruption and illicit financing of the PSI.

He always rejected the charges of corruption while admitting to the illegal funding which permitted costly political activity, the PSI being less financially powerful than the two larger parties, Christian Democracy and the Communists.

Craxi's government and party were also supported by future Prime Minister Silvio Berlusconi, a media magnate and personal friend of Craxi.

Craxi maintained strong links with many leaders of the European left, including François Mitterrand, Felipe González, Andreas Papandreou and Mário Soares and was one of the main representatives of Mediterranean or South European socialism.

Craxi's supporters especially praised his foreign policy, which was assertive and often led to confrontations with the United States, on issues such as Palestine, terrorism and Craxi's close relations with Arab socialist governments.

Even today, several years after his death, his memory arouses controversial feelings.Those of appreciation turn to him as a precursor of the modernization of the country and of Italian politics.

Moreover, under his government, between 1983 and 1987 the public debt went from 400 thousand to one million billion lire and the debt-to-GDP ratio from 69% to 92%.

The subsequent passage of the lira from the broadband to the narrow band of the European Monetary System, wanted by the governor of the Bank of Italy Carlo Azeglio Ciampi and the consequent financial speculation of the so-called Black Wednesday made it necessary by the Amato government a maneuver of 93 thousand billion, reforming pensions and implementing the highly contested forced withdrawal of 6 per thousand from Italian current accounts.

Those of execration are caused by the convictions reported following the investigation of Tangentopoli and his decision to flee from Italy.

Craxi was often nicknamed by his detractors il Cinghialone ("The Big Boar") due to his physical size.This name was given him by his long-time ally and rival at the same time, Christian Democratic leader Giulio Andreotti.


---