Bobbi Kristina Brown
Reality television and media personality
Died when: 22 years 144 days (268 months)
Star Sign: Pisces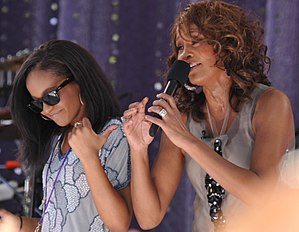 Bobbi Kristina Brown (March 4, 1993 – July 26, 2015) was an American reality television personality, media personality, and singer.She was the daughter of singers Whitney Houston and Bobby Brown.

Her parents' fame kept Brown in the public eye, as did her appearances on the reality show Being Bobby Brown.

Brown was 14 when her parents divorced and Houston gained custody.When Houston died in February 2012, Brown was the sole beneficiary of her mother's estate.

In October 2012, Brown caused controversy within her parents' families when she announced her engagement to Nick Gordon, a man she previously considered her "big brother".

When the couple announced they were married, her father's lawyer released a statement disputing the report.In January 2015, Brown was found unconscious in a bathtub in her home.

After being in a coma for nearly six months, Brown died from lobar pneumonia on July 26, 2015.Although Gordon was never charged with any crime related to Brown's death, he was later found responsible in a wrongful death lawsuit and ordered to pay $36 million to her estate.

After her death, her life was the subject of a television movie in 2017 and documentary in 2021.


---