Burhanuddin Rabbani
President of Afghanistan
Died when: 71 years 0 days (852 months)
Star Sign: Virgo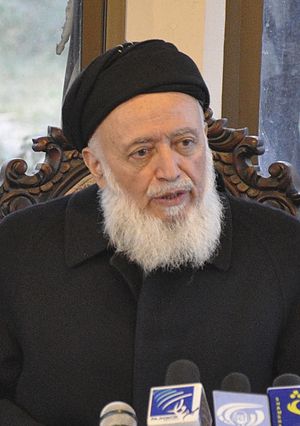 Burhānuddīn Rabbānī (Persian: برهان‌الدین ربانی; 20 September 1940 – 20 September 2011) was an Afghan politician and teacher who served as President of Afghanistan from 1992 to 2001 (in exile from 1996 to 2001).

Born in the Badakhshan Province, Rabbani studied at Kabul University and worked there as a professor of Islamic theology.He formed the Jamiat-e Islami (Islamic Society) at the university which attracted then-students Gulbuddin Hekmatyar and Ahmad Shah Massoud, both of whom would eventually become the two leading commanders of the Afghan mujahideen in the Soviet–Afghan War from 1979.

Rabbani was chosen to be the President of Afghanistan after the end of the former communist regime in 1992.Rabbani and his Islamic State of Afghanistan government was later forced into exile by the Taliban, and he then served as the political head of the Northern Alliance, an alliance of various political groups who fought against the Taliban regime in Afghanistan.

After the Taliban government was toppled during Operation Enduring Freedom, Rabbani returned to Kabul and served briefly as President from 13 November to 22 December 2001, when Hamid Karzai was chosen as his succeeding interim leader at the Bonn International Conference.

In later years he became head of Afghanistan National Front (known in the media as United National Front), the largest political opposition to Karzai's government.

On 20 September 2011, Rabbani was assassinated by a suicide bomber entering his home in Kabul.As suggested by the Afghan parliament, Afghanistan's President Hamid Karzai gave him the title of "Martyr of Peace".

His son Salahuddin Rabbani was chosen in April 2012 to lead efforts to forge peace in Afghanistan with the Taliban.


---