James Stewart
American actor
Died when: 89 years 43 days (1069 months)
Star Sign: Taurus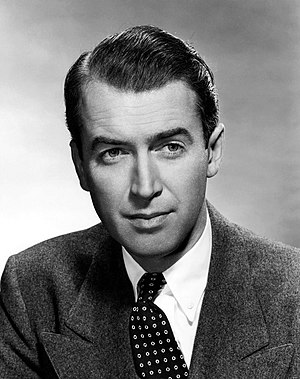 James Maitland Stewart (May 20, 1908 – July 2, 1997) was an American actor.Known for his distinctive drawl and everyman screen persona, Stewart's film career spanned 80 films from 1935 to 1991.

With the strong morality he portrayed both on and off the screen, he epitomized the "American ideal" in the twentieth century.

In 1999, the American Film Institute (AFI) ranked him third on its list of the greatest American male actors.Born and raised in Indiana, Pennsylvania, Stewart started acting while studying at Princeton University.

After graduating in 1932, he began a career as a stage actor, appearing on Broadway and in summer stock productions.In 1935, he landed his first of several supporting roles in movies and in 1938 he had his big breakthrough in Frank Capra's ensemble comedy You Can't Take It with You.

The following year, Stewart garnered his first of five Academy Award nominations for his portrayal of an idealized and virtuous man who becomes a senator in Capra's Mr.

Smith Goes to Washington (1939).He won his only Academy Award for Best Actor for his work in the comedy The Philadelphia Story (1940), which also starred Katharine Hepburn and Cary Grant.

A licensed amateur pilot, Stewart enlisted as a private in the Army Air Forces, the aerial component of the U.S.

Army, soon after the United States entered the Second World War in 1941.After fighting in the European theater, he attained the rank of colonel and received several awards for his service.

When the Army Air Forces split from the Army to become the U.S.Air Force in 1947, he transferred to the Air Force Reserve and was promoted to brigadier general in 1959.

He retired in 1968 and was awarded the Air Force Distinguished Service Medal.President Ronald Reagan would later promote Stewart to the rank of major general in the Air Force retired list, in 1985.

Stewart's first postwar role was as George Bailey in Capra's It's a Wonderful Life (1946).Although the film was not a major success upon release, his performance earned him an Oscar nomination and the film has since become a Christmas classic, as well as one of his most well known acting roles.

In the 1950s, Stewart played darker, more morally ambiguous characters in movies directed by Anthony Mann, including Winchester '73 (1950), The Glenn Miller Story (1954) and The Naked Spur (1953), and by Alfred Hitchcock in Rope (1948), Rear Window (1954), The Man Who Knew Too Much (1956), and Vertigo (1958).

His other films in the 1950s included the Broadway adaptation Harvey (1950) and the courtroom drama Anatomy of a Murder (1959), both of which landed him Academy Award nominations.

He was one of the most popular film stars of the decade, with most of his films becoming box office successes.

Stewart's later Westerns included The Man Who Shot Liberty Valance (1962) with John Wayne and Cheyenne Autumn (1964), both directed by John Ford.

He appeared in many popular family comedies during the 1960s.After brief ventures into television acting, Stewart semi-retired by the 1980s.

He received many honorary awards, including an Academy Honorary Award and the Presidential Medal of Freedom, both in 1985.Stewart remained unmarried until his 40s and was dubbed "The Great American Bachelor" by the press.

In 1949, he married former model Gloria Hatrick McLean.They had twin daughters, and he adopted her two sons from her previous marriage.

The marriage lasted until McLean's death in 1994;Stewart died of a pulmonary embolism three years later.


---