Carlos P. Romulo
American politician
Died when: 87 years 335 days (1055 months)
Star Sign: Capricorn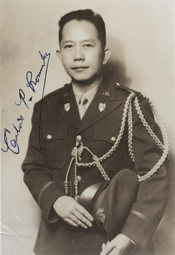 Carlos Peña Romulo Sr.QSC GCS CLH NA GCrM GCrGH KGCR (January 14, 1898 – December 15, 1985) was a Filipino diplomat, statesman, soldier, journalist and author.

He was a reporter at the age of 16, a newspaper editor by 20, and a publisher at 32.He was a co-founder of the Boy Scouts of the Philippines, a general in the US Army and the Philippine Army, university president, and president of the United Nations General Assembly.

He has been named as one of the Philippines's national artists in literature, and was the recipient of many other honors and honorary degrees.


---