Alfredo Pérez Rubalcaba
Spanish politician
Died when: 67 years 286 days (813 months)
Star Sign: Leo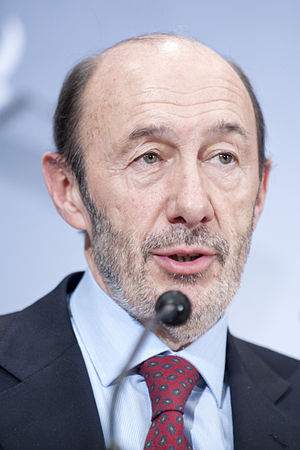 Alfredo Pérez Rubalcaba (Spanish pronunciation: [alˈfɾeðo ˈpeɾeθ ruβalˈkaβa]; 28 July 1951 – 10 May 2019) was a Spanish statesman, politician and chemist who served as Deputy Prime Minister of Spain from 2010 to 2011, and previously as Minister of Education from 1992 to 1993, as Minister of the Presidency from 1993 to 1996, as Minister of the Interior from 2006 to 2011 and as acting Minister of Defence between May and June 2008.

He also served as Leader of the Opposition from 2011 to 2014 and as Secretary-General of the Spanish Socialist Workers' Party (PSOE) from 2012 to 2014.

He obtained a PhD in Organic Chemistry at the Complutense University of Madrid.


---