Charles Haughey
Irish politician
Died when: 80 years 270 days (968 months)
Star Sign: Virgo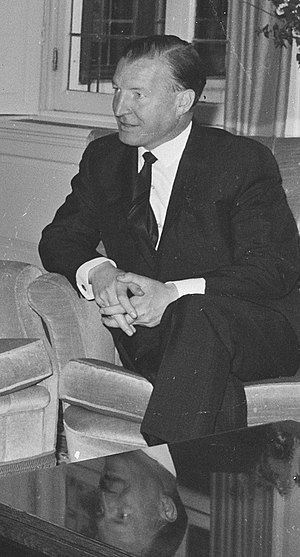 Charles James Haughey (; 16 September 1925 – 13 June 2006) was an Irish Fianna Fáil politician who served as Taoiseach on three occasions – 1979 to 1981, March to December 1982 and 1987 to 1992.

He was also Minister for the Gaeltacht from 1987 to 1992, Leader of the Opposition from 1981 to 1982 and 1982 to 1987, Leader of Fianna Fáil from 1979 to 1992, Minister for Social Welfare and for Health from 1977 to 1979, Minister for Finance from 1966 to 1970, Minister for Agriculture from 1964 to 1966, Minister for Justice from 1961 to 1964 and Parliamentary Secretary to the Minister for Justice from 1959 to 1961.

He served as a Teachta Dála (TD) from 1957 to 1992.Haughey was first elected to Dáil Éireann as a Fianna Fáil TD in 1957 and was re-elected at every election until 1992, representing successively the Dublin North-East, Dublin Artane and Dublin North-Central constituencies.

Haughey was the dominant Irish politician of his generation, as well as the most controversial.Upon entering government in the early 1960s, Haughey became the symbol of a new vanguard of Irish Ministers.

As Taoiseach, he is credited by some economists with starting the positive transformation of the economy in the late 1980s.

However, his career was also marked by several major scandals.Haughey was implicated in the Arms Crisis of 1970, which nearly destroyed his career.

His political reputation revived, his tenure as Taoiseach was then damaged by the sensational GUBU Affair in 1982; his party leadership was challenged four times, each time unsuccessfully, earning Haughey the nickname "The Great Houdini".

Revelations about his role in a phone tapping scandal forced him to resign as Taoiseach and retire from politics in 1992.

After Haughey's retirement from politics, further revelations of corruption, embezzlement, tax evasion and a 27-year extra-marital affair tarnished his already divisive reputation.

He died of prostate cancer in 2006, aged 80.


---