Paul Volcker
American economist
Died when: 92 years 94 days (1107 months)
Star Sign: Virgo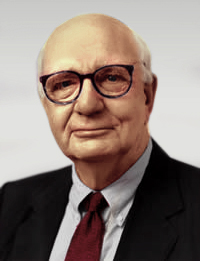 Paul Adolph Volcker Jr. (September 5, 1927 – December 8, 2019) was an American economist who served as the 12th chairman of the Federal Reserve from 1979 to 1987.

During his tenure as chairman, Volcker was widely credited with having ended the high levels of inflation seen in the United States throughout the 1970s and early 1980s.

He previously served as the president of the Federal Reserve Bank of New York from 1975 to 1979.President Jimmy Carter nominated him to succeed G.

William Miller as Fed chairman and President Ronald Reagan renominated him once.Volcker did not seek a third term at the Fed and was succeeded by Alan Greenspan.

After his retirement from the Board, he chaired the Economic Recovery Advisory Board under President Barack Obama from 2009 to 2011 during the subprime mortgage crisis.


---