Charley Trippi
American football player
Died when: 100 years 309 days (1210 months)
Star Sign: Sagittarius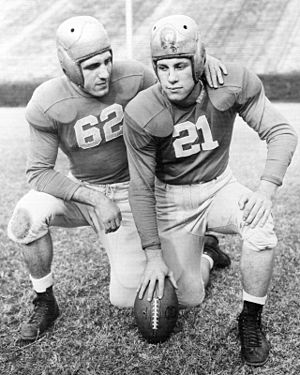 Charles Louis Trippi (December 14, 1921 – October 19, 2022) was an American professional football player for the Chicago Cardinals of the National Football League (NFL) from 1947 to 1955.

Although primarily a running back, his versatility allowed him to fill a multitude of roles over his career, including quarterback, defensive back, punter, and return specialist.

A "quintuple-threat", Trippi was adept at running, catching, passing, punting, and defense.Trippi attended the University of Georgia, where he played college football for the Georgia Bulldogs from 1942 to 1946, with an interlude in 1944 while serving in the military during World War II.

As a sophomore, he guided Georgia to victory in the 1943 Rose Bowl and was named the game's most valuable player.

As a senior in 1946, he won the Maxwell Award as the nation's most outstanding college football player, was named the Southeastern Conference's player of the year, and earned unanimous first-team All-America recognition.

Drafted first overall by the Cardinals as a "future pick" in the 1945 NFL Draft, Trippi was also pursued by the New York Yankees of the All-America Football Conference (AAFC) as well as multiple professional baseball teams.

He ultimately signed a record $100,000 contract with the Cardinals.As a rookie, Trippi led Chicago's "Million Dollar Backfield" to victory in the 1947 NFL Championship Game.

By the time he retired he had compiled the most yards of total offense by a player in NFL history.

Trippi was inducted into the College Football Hall of Fame in 1959 and the Pro Football Hall of Fame in 1968.


---