Clarence Fountain
American gospel singer
Died when: 88 years 187 days (1062 months)
Star Sign: Sagittarius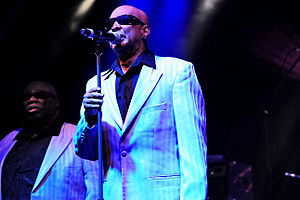 The Blind Boys of Alabama, also billed as The Five Blind Boys of Alabama and Clarence Fountain and the Blind Boys of Alabama, is an American gospel group.

The group was founded in 1939 in Talladega, Alabama and has featured a changing roster of musicians over its history, the majority of whom are or were visually impaired.

The Blind Boys found mainstream success following their appearance in the 1983 Obie Award-winning musical The Gospel at Colonus.Since then, the group has toured internationally and has performed and recorded with such artists as Prince, Lou Reed, Peter Gabriel, Bonnie Raitt, Ben Harper, Bon Iver, and Amadou & Mariam.

The group's cover of the Tom Waits song "Way Down in the Hole" was used as the theme song for the first season of the HBO series The Wire.

The Blind Boys have won five Grammy Awards in addition to being presented with a Grammy Lifetime Achievement Award in 2009.

They were endowed with a National Heritage Fellowship from the National Endowment for the Arts in 1994, they were inducted into the Gospel Music Hall of Fame in 2003 and they were inducted into the Alabama Music Hall of Fame in 2010.

The group was also invited to the White House during the Bill Clinton, George W.Bush, and Barack Obama administrations.

Group member Ricky McKinnie said in a 2011 interview with the magazine Mother Jones: "Our disability doesn't have to be a handicap.

It's not about what you can't do.It's about what you do.And what we do is sing good gospel music."


---