Corazon Aquino
Philippines president
Died when: 76 years 188 days (918 months)
Star Sign: Aquarius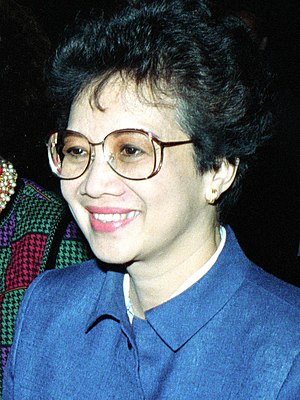 Maria Corazon Sumulong Cojuangco Aquino (Tagalog pronunciation: [koɾaˈson aˈkino], born Maria Corazon Sumulong Cojuangco, 25 January 1933 – 1 August 2009), popularly known as Cory Aquino, was a Filipino politician who served as the 11th President of the Philippines.

Corazon Aquino was the most prominent figure of the 1986 People Power Revolution, which ended the two-decade rule of the President Ferdinand Marcos and led to the establishment of the current democratic Fifth Philippine Republic.

Corazon Aquino was married to Senator Benigno Aquino Jr., who was one of the most prominent critics of President Marcos.

After the assassination of her husband on 21 August 1983, she emerged as leader of the opposition against the President.In late 1985, Marcos called for a snap election, and Aquino ran for president with former senator Salvador Laurel as her running mate for vice president.

After the election held on 7 February 1986, the Batasang Pambansa proclaimed Marcos and his running mate Arturo Tolentino as the winners, which prompted allegations of electoral fraud and Aquino's call for massive civil disobedience actions.

Subsequently, the People Power Revolution, a non-violent mass demonstration movement, took place from 22 February to 25 February.The People Power Revolution, along with defections from the Armed Forces of the Philippines and support from the Philippine Catholic Church, successfully ousted Marcos and secured Aquino's accession to the presidency on 25 February 1986.

Prior to her election as president, Aquino had not held any elected office.Corazon Aquino was the first female President of the Philippines.

As President, Aquino oversaw the drafting of the 1987 Constitution, which limited the powers of the Presidency and re-established the bicameral Congress.

Her administration emphasized civil liberties and human rights, and conducted peace talks to resolve the ongoing Communist insurgency and Islamist secession movements.

Her economic policies focused on restoring economic health and confidence and sought to create a market-oriented and socially responsible economy.

The Philippines also faced various natural calamities in the latter part of Aquino's administration, such as the 1990 Luzon earthquake and Tropical Storm Thelma.

During her term in office, several coup attempts were made against Aquino's government.She was succeeded as president by Fidel V.

Ramos and returned to civilian life, and remained a notable political figure for the rest of her life.Aquino was diagnosed with colorectal cancer in 2008 and died on 1 August 2009.

Her son Benigno Aquino III served as President of the Philippines from 30 June 2010 to 30 June 2016.After her passing, monuments were established and public landmarks were named in honor of Corazon Aquino all around the Philippines.

She is called the Mother of Democracy.


---