Corazon Aquino
President of the Philippines
Died when: 76 years 188 days (918 months)
Star Sign: Aquarius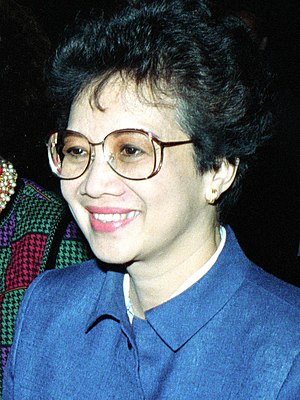 Maria Corazon "Cory" Sumulong Cojuangco-Aquino CCLH (Tagalog: [kɔɾaˈsɔn kɔˈhwaŋkɔ aˈkino];January 25, 1933 – August 1, 2009) was a Filipina politician who served as the 11th president of the Philippines from 1986 to 1992.

She was the most prominent figure of the 1986 People Power Revolution, which ended the two-decade rule of President Ferdinand Marcos and led to the establishment of the current democratic Fifth Philippine Republic.

Corazon Aquino was married to Senator Benigno Aquino Jr., who was one of the most prominent critics of President Marcos.

After the assassination of her husband on August 21, 1983, she emerged as leader of the opposition against the president.In late 1985, Marcos called for a snap election, and Aquino ran for president with former Senator Salvador Laurel as her running mate for vice president.

After the election held on February 7, 1986, the Batasang Pambansa proclaimed Marcos and his running mate Arturo Tolentino as the winners, which prompted allegations of electoral fraud and Aquino's call for massive civil disobedience actions.

Subsequently, the People Power Revolution, a non-violent mass demonstration movement, took place from February 22 to 25.The People Power Revolution, along with defections from the Armed Forces of the Philippines and support from the Philippine Catholic Church, successfully ousted Marcos and secured Aquino's accession to the presidency on February 25, 1986.

Prior to her election as president, Aquino had not held any elected office.She was the first female president of the Philippines.

As president, Aquino oversaw the drafting of the 1987 Constitution, which limited the powers of the presidency and re-established the bicameral Congress, successfully removing the previous dictatorial government structure.

Her economic policies focused on forging good economic standing amongst the international community as well as disestablishing Marcos-era crony capitalist monopolies, emphasizing the free market and responsible economy.

Her administration pursued peace talks to resolve the Moro conflict, and the result of these talks was creation of the Autonomous Region in Muslim Mindanao.

Aquino was criticized for the Mendiola Massacre, which resulted in the shooting deaths of at least 12 peaceful protesters by Philippine state security forces.

The Philippines faced various natural calamities in the latter part of Aquino's administration, such as the 1990 Luzon earthquake, 1991 Mt.Pinatubo eruption and Tropical Storm Thelma.

Several coup attempts were made against her government.She was succeeded as president by Fidel V.Ramos and returned to civilian life in 1992.

Aquino was diagnosed with colorectal cancer in 2008 and died on August 1, 2009.Her son Benigno Aquino III served as president of the Philippines from 2010 to 2016.

After her death, monuments were built and public landmarks were named in honor of Corazon Aquino all around the Philippines.

Aquino was regarded as the Mother of Democracy.


---