Cormac Murphy-O'Connor
Archbishop of Westminster
Died when: 85 years 8 days (1020 months)
Star Sign: Virgo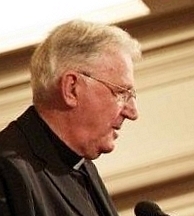 Cormac Murphy-O'Connor (24 August 1932 – 1 September 2017) was a British cardinal, the Archbishop of Westminster and president of the Catholic Bishops' Conference of England and Wales.

He was made cardinal by Pope John Paul II in 2001.He submitted his resignation as archbishop on reaching his 75th birthday in 2007;

Pope Benedict XVI accepted it on 3 April 2009.By virtue of his position as Archbishop of Westminster, Murphy-O'Connor was sometimes referred to as the Catholic Primate of England and Wales.

However, though the holders within the Church of England of the posts of Archbishop of Canterbury and Archbishop of York are called the "Primate of All England" and "Primate of England" respectively, the title of primate has never been used by the de facto leaders of the Catholic Church in England and Wales.


---