Dan Rooney
American football team chairman
Died when: 84 years 267 days (1016 months)
Star Sign: Cancer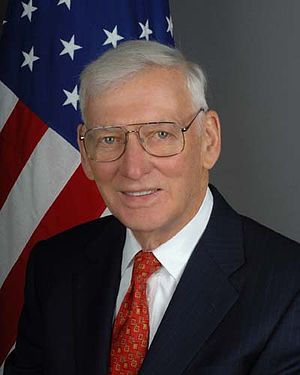 Daniel Milton Rooney (July 20, 1932 – April 13, 2017) was an American executive and diplomat best known for his association with the Pittsburgh Steelers, an American football team in the National Football League (NFL), and son of the Steelers' founder, Art Rooney.

He held various roles within the organization, most notably as president, owner and chairman.Rooney implemented a philosophy and management style that emphasized open, practical and efficient management.

The Steelers were very successful during his tenure, winning 15 division championships, eight AFC Championships, and an NFL record six Super Bowl Championships.

In 2000, he was elected to the Pro Football Hall of Fame for his contributions to the game.He was also credited with spearheading a requirement that NFL teams with head coach and general manager vacancies interview at least one minority candidate, which has become known as the "Rooney Rule".

Outside of football, Rooney served as the United States Ambassador to Ireland, from July 2009 until his resignation in December 2012.He was also co-founder of the Ireland-related fundraising organization The Ireland Funds.


---