David Frost
English journalist
Died when: 74 years 146 days (892 months)
Star Sign: Aries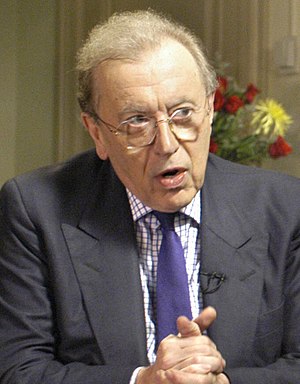 Sir David Paradine Frost OBE (7 April 1939 – 31 August 2013) was a British television host, journalist, comedian and writer.He rose to prominence during the satire boom in the United Kingdom when he was chosen to host the satirical programme That Was the Week That Was in 1962.

His success on this show led to work as a host on American television.He became known for his television interviews with senior political figures, among them the Nixon interviews with US president Richard Nixon in 1977 which were adapted into a stage play and film.

Frost interviewed all eight British prime ministers serving between 1964 and 2016 and all seven American presidents in office between 1969 and 2008.Frost was one of the people behind the launch of ITV station TV-am in 1983.

He was the inaugural host of the US news magazine programme Inside Edition.He hosted the Sunday morning interview programme Breakfast with Frost for the BBC from 1993 to 2005, and spent two decades as host of Through the Keyhole.

From 2006 to 2012, he hosted the weekly programme Frost Over the World on Al Jazeera English, and the weekly programme The Frost Interview from 2012.

He received the BAFTA Fellowship from the British Academy of Film and Television Arts in 2005 and the Lifetime Achievement Award at the Emmy Awards in 2009.

Frost died on 31 August 2013, aged 74, on board the cruise ship MS Queen Elizabeth, where he had been engaged as a speaker.

His memorial stone was unveiled in Poets' Corner of Westminster Abbey in March 2014.


---