Denis Healey
British Labour Party politician
Died when: 98 years 34 days (1177 months)
Star Sign: Virgo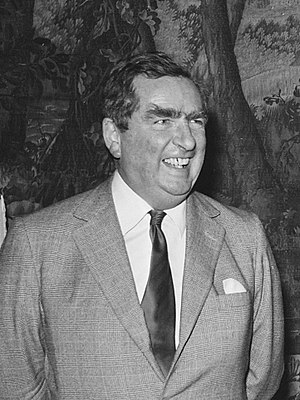 Denis Winston Healey, Baron Healey (30 August 1917 – 3 October 2015) was a British Labour Party politician who served as Chancellor of the Exchequer from 1974 to 1979 and as Secretary of State for Defence from 1964 to 1970; he remains the longest-serving Defence Secretary to date.

He was a Member of Parliament from 1952 to 1992, and was Deputy Leader of the Labour Party from 1980 to 1983.To the public at large, Healey became well known for his bushy eyebrows, his avuncular manner and his creative turns of phrase.

Healey attended the University of Oxford and served as a Major in the Second World War.He was later an agent for the Information Research Department, a secret branch of the Foreign Office dedicated to spreading anti-communist propaganda during the early Cold War.

Healey was first elected to Parliament in a by-election in 1952 for the seat of Leeds South East.He moved to the seat of Leeds East at the 1955 election, which he represented until his retirement at the 1992 election.

After Labour's victory at the 1964 election, he was appointed to the Cabinet by Prime Minister Harold Wilson as Defence Secretary; he held this role until Labour's defeat at the 1970 election, making him the longest-serving Secretary of State for Defence to date.

When Labour returned to power after the 1974 election, Wilson appointed Healey Chancellor of the Exchequer.He stood for the leadership of the Labour Party in the election to replace Wilson in March 1976, but lost to James Callaghan;

Callaghan retained Healey as Chancellor in his new government.During his time as Chancellor, Healey notably sought out an international loan from the International Monetary Fund (IMF) for the British economy, which imposed external conditions on public spending.

Healey stood a second time for the leadership of the Labour Party in November 1980, but narrowly lost to Michael Foot.

Foot immediately chose Healey as his Deputy Leader, but after the Labour Party agreed a series of changes to the rules governing leadership elections, Tony Benn launched a challenge to Healey for the role; the election was bitterly contested throughout most of 1981, and Healey was able to beat the challenge by less than 1%.

Standing down as Deputy Leader after Labour's landslide defeat at the 1983 election, Healey remained in the Shadow Cabinet until 1987, and entered the House of Lords soon after his retirement from Parliament in 1992.

Healey died in 2015 at the age of 98, having become the oldest sitting member of the House of Lords, and the last surviving member of Harold Wilson's first government formed in 1964.


---