Nicholas Parsons
English television presenter
Died when: 96 years 110 days (1155 months)
Star Sign: Libra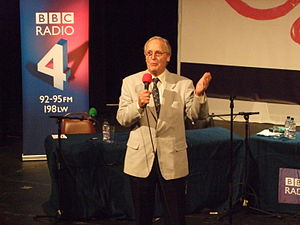 Christopher Nicholas Parsons CBE (10 October 1923 – 28 January 2020) was an English actor, straight man and radio and television presenter.He was the long-running presenter of the comedy radio show Just a Minute and hosted the game show Sale of the Century during the 1970s and early 1980s.

Parsons was born and grew up in Grantham, Lincolnshire, and was educated at St Paul's School, London.He became a full-time actor following the Second World War and began appearing in various theatre, film and television roles, including support to Arthur Haynes as his straight man.

He began presenting Just a Minute in 1967 and never missed a show until 2018.In addition to his well-known roles on this and Sale of the Century, he appeared as a guest on other television shows, including Doctor Who and Have I Got News for You.


---