Dick Dale
American rock guitarist
Died when: 81 years 316 days (982 months)
Star Sign: Taurus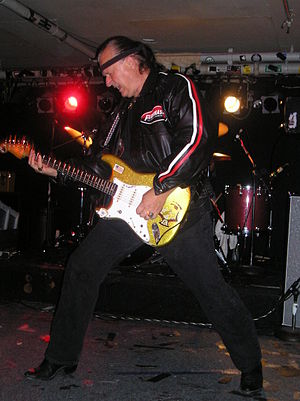 Richard Anthony Monsour (May 4, 1937 – March 16, 2019), known professionally as Dick Dale, was an American rock guitarist.He was the pioneer of surf music, drawing on Middle Eastern music scales and experimenting with reverb.

Dale was known as "The King of the Surf Guitar", which was also the title of his second studio album.

Dale was one of the most influential guitarists of all time and especially of the early 1960s.Most of the leading bands in surf music, such as The Beach Boys, Jan and Dean and The Trashmen, were influenced by Dale's music, and often included recordings of Dale's songs in their albums.

His style and music influenced guitarists such as Jimi Hendrix, Pete Townshend, Eddie Van Halen and Brian May.He has been mentioned as one of the fathers of heavy metal.

Many credit him with tremolo picking, a technique that is now widely used in many musical genres (such as extreme metal, folk etc.).

His speedy single-note staccato picking technique was unmatched until guitarists like Eddie Van Halen entered the music scene.Working together with Leo Fender, Dale also pushed the limits of electric amplification technology, helping to develop new equipment that was capable of producing thick and previously unheard volumes including the first-ever 100-watt guitar amplifier.

Dale also pioneered the use of portable reverb effects.The use of his recording of "Misirlou" by Quentin Tarantino in the film Pulp Fiction led to his return in the 1990s, marked by four albums and world tours.

He was also nominated for a Grammy in the Best Rock Instrumental Performance category for the song "Pipeline" with Stevie Ray Vaughan.

In "Rolling Stone's 100 Greatest Guitarists of All Time", Dale was ranked 31st in 2003 and 74th in the 2011 revision.


---