Dick Raaymakers
Dutch composer
Died when: 83 years 3 days (996 months)
Star Sign: Virgo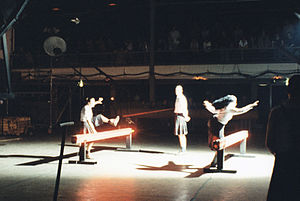 Dick Raaijmakers (Maastricht, 1 September 1930 - The Hague, 4 September 2013), also known as Dick Raaymakers or Kid Baltan, was a Dutch composer, theater maker and theorist.

He is considered a pioneer in the field of electronic music and tape music, but has also produced numerous musical theater pieces and theoretical publications.

Raaijmakers studied piano at the .From 1954 to 1960, he worked at Koninklijke Philips Electronics N.V. in Eindhoven in the electro-acoustic field.

Under the pseudonym Kid Baltan, a anadrome of "Dik Natlab" - Raaijmakers' nickname, he realized three tests of popular music with the help of electronic means. in the world).

This work has been collected and re-released under the name Popular Electronics.Early Dutch electronic music from Philips Research Laboratories, 1956-1963.

From 1960 to 1962, he was affiliated with the University of Utrecht as a researcher.From 1963 to 1966, he worked with Jan Boerman in a self-established studio for electronic music in The Hague.

From 1966 until his retirement in 1995, he worked as a teacher of Electronic and Contemporary Music at the Royal Conservatory (The Hague) and from 1991 as a teacher of music theater at the interfaculty of Sound and Vision of the Royal Conservatoire and the .


---