Don Budge
American tennis player
Died when: 84 years 227 days (1015 months)
Star Sign: Gemini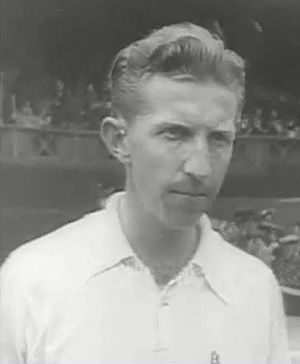 John Donald Budge (June 13, 1915 – January 26, 2000) was an American tennis player.He is most famous as the first player — of any nationality, male or female, and still the only American male — to win the four tournaments that comprise the Grand Slam of tennis in a single year.

Budge was the second male player to win all four Grand Slam events in his career after Fred Perry, and is still the youngest to achieve that feat.

He won ten majors, of which six were Grand Slam events (consecutively, male record) and four Pro Slams, the latter achieved on three different surfaces.

Budge was considered to have the best backhand in the history of tennis, at least until the emergence of Ken Rosewall in the 1950s and 1960s, although most observers rated Budge's backhand the stronger of the two.

He is also the only male player to have achieved the triple crown (winning singles, doubles and mixed at the same tournament) on three separate occasions, and the only one to have achieved it twice in one year.


---