Doug Harvey
American baseball umpire
Died when: 87 years 306 days (1054 months)
Star Sign: Pisces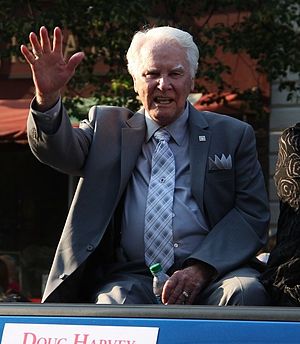 Harold Douglas Harvey (March 13, 1930 – January 13, 2018) was an umpire in Major League Baseball (MLB), who worked in the National League (NL) from 1962 through 1992.

Noted for his authoritative command of baseball rules, he earned the tongue-in-cheek nickname "God" from players, and was among the last major league umpires who never attended an umpiring school.

Harvey umpired five World Series and seven All-Star Games.His career total of 4,673 games ranked third in major league history at the time of his retirement.

In 2010, he became the ninth umpire to be inducted into the Baseball Hall of Fame.In 1999, the Society for American Baseball Research ranked Harvey as the second-greatest umpire in history, behind only Bill Klem.

In 2007, Referee magazine selected him as one of the 52 most influential figures in the history of sports officiating.Harvey wore uniform number 8 for most of his career.


---