Eddie Sutton
American college basketball coach
Died when: 84 years 72 days (1010 months)
Star Sign: Pisces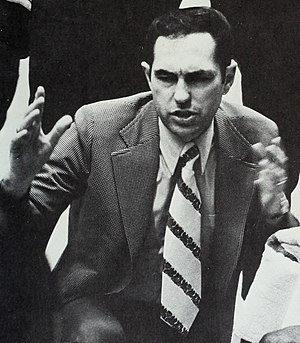 Edward Eugene Sutton (March 12, 1936 – May 23, 2020) was an American college basketball coach.A native of Bucklin, Kansas, Sutton played college basketball at Oklahoma A&M (later Oklahoma State) and was a head coach at the high school, junior college, and college levels spanning six decades.

After beginning his coaching career as a graduate assistant at Oklahoma State under Henry Iba, Sutton was a successful head coach at Tulsa Central High School and the College of Southern Idaho.

Sutton began coaching at the NCAA level in 1969 at Creighton University, followed by Arkansas from 1974 to 1985, Kentucky from 1985 to 1989, and Oklahoma State from 1990 to 2006.

For part of the 2007–08 season, Sutton was interim head coach at San Francisco.During his college coaching career, Sutton is one of only eight NCAA Division I coaches to have had more than 800 career wins.

From 1977 to 2005, Sutton's teams appeared in all but one NCAA Tournament.Sutton was inducted into the College Basketball Hall of Fame in 2011 and Basketball Hall of Fame in 2020.


---