Eduard Limonov
Russian writer
Died when: 77 years 24 days (924 months)
Star Sign: Pisces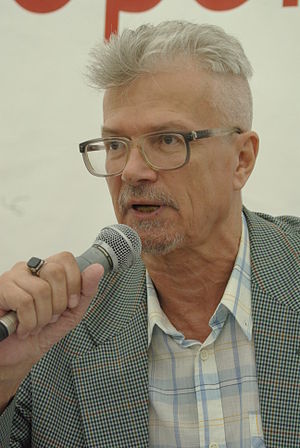 Eduard Limonov (Russian: Эдуард Лимонов, real name Eduard Veniaminovich Savenko, Russian: Эдуард Вениаминович Савенко; 22 February 1943 – 17 March 2020) was a Russian writer, poet, publicist, political dissident and politician.

He emigrated from the USSR in 1974 and earned the fame of a scandalous writer abroad, in particular, due to obscene language and pornographic scenes in his first novel It's Me, Eddie.

In 1991, he returned to Russia and soon founded the controversial National Bolshevik Party that was banned in the country in 2007 (it was superseded by The Other Russia party).

A fierce opponent of neoliberal policies in Russia, he was arrested in 2001 and convicted for illegal possession of weapons.In the 2000s, he was one of the leaders of The Other Russia coalition of opposition forces.

However, he supported Putin's foreign policy following the 2014 pro-Russian unrest in Ukraine.


---