Fred Thompson
US Senator
Died when: 73 years 74 days (878 months)
Star Sign: Leo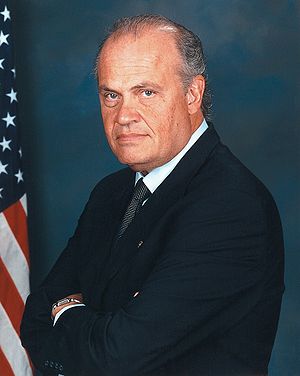 Freddie Dalton Thompson (August 19, 1942 – November 1, 2015) was an American politician, attorney, lobbyist, columnist, actor, and radio personality.A member of the Republican Party, he served as a United States Senator from Tennessee from 1994 to 2003;

Thompson was an unsuccessful candidate in the Republican Party presidential primaries for the 2008 United States presidential election.He also chaired the International Security Advisory Board at the U.S.

Department of State, was a member of the U.S.–China Economic and Security Review Commission, a member of the Council on Foreign Relations, as well as a visiting fellow with the American Enterprise Institute, specializing in national security and intelligence.

As an actor, usually credited as Fred Dalton Thompson, he appeared in a number of movies and television shows including Matlock, The Hunt for Red October, Die Hard 2, In the Line of Fire, Days of Thunder, and Cape Fear, as well as in commercials.

He frequently portrayed governmental authority figures and military men.In the final months of his U.S.Senate term in 2002, Thompson joined the cast of the NBC television series Law & Order, starring as Manhattan District Attorney Arthur Branch.


---