Edward Onslow Ford
British artist
Died when: 49 years 149 days (592 months)
Star Sign: Leo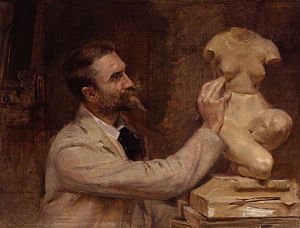 Edward Onslow Ford RA (27 July 1852—23 December 1901) was an English sculptor.Much of Ford's early success came with portrait heads or busts.

These were considered extremely refined, showing his subjects at their best and led to him receiving a number of commissions for public monuments and statues, both in Britain and overseas.

Ford also produced a number of bronze statuettes of free-standing figures loosely drawn from mythology or of allegorical subjects.These 'ideal' figures became characteristic of the New Sculpture movement that developed in Britain from about 1880 and of which Ford was a leading exponent.


---