Edward Seaga
Prime Minister of Jamaica
Died when: 89 years 0 days (1068 months)
Star Sign: Gemini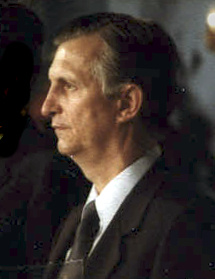 Edward Philip George Seaga ON PC ( or ; 28 May 1930 – 28 May 2019) was an American-born Jamaican politician.He was the fifth Prime Minister of Jamaica, from 1980 to 1989, and the leader of the Jamaica Labour Party from 1974 to 2005.

He served as leader of the opposition from 1974 to 1980, and again from 1989 until January 2005.His retirement from political life marked the end of Jamaica's founding generation in active politics.

He was the last serving politician to have entered public life before independence in 1962, as he was appointed to the Legislative Council (now the Senate) in 1959.

Seaga is credited with having built the financial and planning infrastructure of the country after independence, as well as having developed its arts and crafts, and awareness of national heritage.

As a record producer and record company owner of West Indies Records Limited, Seaga also played a major role in the development of the Jamaican music industry.

Seaga died on 28 May 2019, on his eighty-ninth birthday.


---