Elizabeth, the Queen Mother
English Royal
Died when: 101 years 238 days (1219 months)
Star Sign: Leo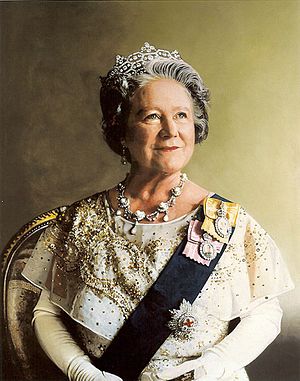 Elizabeth Angela Marguerite Bowes-Lyon (4 August 1900 – 30 March 2002) was Queen of the United Kingdom and the Dominions of the British Commonwealth from 11 December 1936 to 6 February 1952 as the wife of King George VI.

She was the last Empress of India from her husband's accession 1936 until the British Raj was dissolved in August 1947.After her husband died, she was known as Queen Elizabeth The Queen Mother, to avoid confusion with her daughter, Queen Elizabeth II.

Born into a family of British nobility, Elizabeth came to prominence in 1923 when she married the Duke of York, the second son of King George V and Queen Mary.

The couple and their daughters Elizabeth and Margaret embodied traditional ideas of family and public service.The Duchess undertook a variety of public engagements and became known for her consistently cheerful countenance.

In 1936, Elizabeth's husband unexpectedly became king when his older brother, Edward VIII, abdicated in order to marry the American divorcée Wallis Simpson.

Elizabeth then became queen consort.She accompanied her husband on diplomatic tours to France and North America before the start of the Second World War.

During the war, her seemingly indomitable spirit provided moral support to the British public.After the war, her husband's health deteriorated, and she was widowed at the age of 51.

Her elder daughter, aged 25, became the new queen.After the death of Queen Mary in 1953, Elizabeth was viewed as the matriarch of the British royal family.

In her later years, she was a consistently popular member of the family, even at times when other royals were suffering from low levels of public approval.

She continued an active public life until just a few months before her death at the age of 101, seven weeks after the death of her younger daughter, Princess Margaret.


---